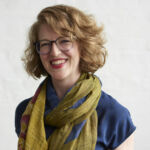 Sarah Savitt
Sarah Savitt is publisher of Virago Press.
Interviews with Sarah Savitt
This week Virago Press celebrates its 50th anniversary. To mark the occasion, the international feminist publisher is reissuing one iconic book from each decade of its existence. Sarah Savitt, publisher of Virago Press, talks us through their 'Five Gold Reads' and explains why they remain important feminist books.