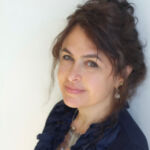 Selma Dabbagh
Selma Dabbagh is a British Palestinian writer. Born in Scotland, she has lived in Saudi Arabia, Kuwait, Bahrain, France, Egypt and the West Bank. Her first novel, Out of It,' (Bloomsbury, 2011) set between London, Gaza and the Gulf, was listed as a Guardian Book of the Year. Her fiction and non-fiction work has appeared in numerous anthologies. She has also written radio plays for BBC Radio 4 and WDR in Germany, short stories for outlets such as Granta and International PEN and written for film and stage. Her nonfiction has appeared in the Guardian, London Review of Books and other publications. She lives in London.
Interviews with Selma Dabbagh
Arab women have been writing erotic literature for millennia and have become more creative and daring in recent years in the wake of the Arab Spring and the spread of social media, says novelist Selma Dabbagh, editor of a new anthology, We Wrote in Symbols: Love and Lust by Arab Women Writers. Here, she picks five key examples of erotic writing by women of the region.