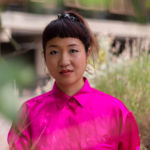 Sharlene Teo
Sharlene Teo was born in Singapore in 1987. She has an LLB in Law from the University of Warwick and an MA in Creative Writing from the University of East Anglia, where she received the Booker Prize Foundation Scholarship and the David TK Wong Creative Writing award. She was shortlisted for the Berlin Writing Prize and holds fellowships from the Elizabeth Kostova Foundation and the University of Iowa International Writing Program. In 2016, she won the inaugural Deborah Rogers Writer's Award for Ponti, her first novel.
Books by Sharlene Teo
Singapore's history is one of the great economic success stories of the last half-century, but at what cost? Ponti by Sharlene Teo is a novel that explores the nostalgia and sense of loss that comes with rapid economic development, first published to glowing reviews in 2018.
For Five Books, Sharlene Teo recommended the Best Books on Singapore. 
Interviews with Sharlene Teo
If your impression of Singapore is based entirely on Crazy Rich Asians, here are some books to read to get a sense of what the country is really like. Singapore's huge economic achievements since it became an independent state in 1965 have not come without consequences, not least nostalgia for the past.  Here novelist Sharlene Teo recommends five books to get a feel for the city-state of Singapore, her homeland. We also recommend reading her novel, Ponti.