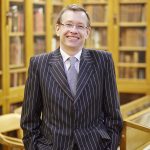 Simon Ball
Simon Ball is a professor at the University of Leeds where he is Chair of International History and Politics and Director of Research in History.
Interviews with Simon Ball
Churchill hailed the Allied victory at the Battle of El Alamein as "the end of the beginning" for Hitler in World War II. But in that very same speech, he downplayed its significance. Historian Simon Ball separates clichés from facts and chooses the best of the vast number of books written about El Alamein, the Desert War and World War II in general.