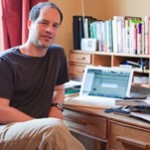 Simon Kuper
Simon Kuper is an author and Financial Times columnist. His book co-authored with Stefan Szymanski, Soccernomics—perhaps best described as a football version of Freakonomics—is called Why England Lose in its UK edition.
Interviews with Simon Kuper
FT columnist and author Simon Kuper tells us what it means to be a football fan and why England always seem to lose. He picks the best football books (in English).
Interviews where books by Simon Kuper were recommended
The author and journalist makes his selection of the best books on World Football. Features volumes from Simon Kuper and Alex Bellos, as well as a cracking investigation into FIFA corruption
When the World Cup comes around, many of us think of our national teams and their chances of winning. But the beauty of football is how international it is, and its ability to cut across borders. John Turnbull of the Global Game blog introduces us to football (or soccer) 'as a second language.'
The Professor of Comparative Politics & German Studies at the University of Michigan and avid baseball, basketball, American football and ice-hockey fan gives us his views on Global Sport.