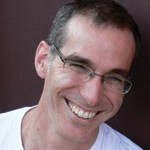 Steven Amsterdam
Steven Amsterdam is the author of Things We Didn't See Coming. It won The Age's Book of the Year and Fiction Book of the Year for 2009, and was nominated for the Guardian First Book Award.
Books by Steven Amsterdam
Given that its nine linked stories are set in a postapocalyptic near future, the pleasure of Amsterdam's debut collection is surprising. Over the course of the book, just about every possible disaster assails the unidentified country in which the stories are set. Floods, drought, mob rule, and a virus that has one deranged character coughing up blood—each play a role in the disintegration of the world as we know it, and Amsterdam's narrator survives them all, first as a thief, later as a bureaucrat (which turns out to be not much different from a thief), and finally as a 40-year-old, cancer-ridden tour guide. Among the high points are Dry Land, in which the narrator encounters a drunken mother and her daughter clinging to each other in a cataclysmic flood, though each is more likely to survive alone; and Cake Walk, with a narrator who hides in a tree while a man infected with a deadly virus destroys his campsite. Though a couple of the later stories lack polish and punch, Amsterdam's varied catastrophes are vividly executed, while his resilient narrator's travails are harrowing. (Feb.) Copyright © Reed Business Information, a division of Reed Elsevier Inc. All rights reserved.
Interviews with Steven Amsterdam
The author tells us about books that have anxiety at their heart, ranging from obsessional love and chronic neurosis to conspiracy theory paranoia and existential angst
Books by Steven Amsterdam