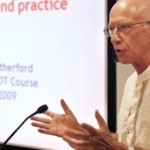 Stuart Rutherford
Stuart Rutherford has spent the last 30 years travelling the world, researching the different financial strategies of the less well-off in a variety of different cultures. In the 1990s he set up SafeSave, his own microfinance co-operative in Dhaka, the capital of Bangladesh, and later in Hrishipara, a rural area. 
Books by Stuart Rutherford
Interviews with Stuart Rutherford
Modern microfinance was born in the late 1970s, and is now viewed as a key way of helping people in poor countries get out of poverty. Author and practitioner Stuart Rutherford recommends the best books to get a basic understanding of microfinance.
Books by Stuart Rutherford