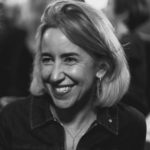 Tammy Cohen
Tammy Cohen is the author of six psychological thrillers. Previously she also wrote three women's fiction novels debuting with The Mistress's Revenge which was translated all round the world. In addition, she has written three historical novels under the pseudonym of Rachel Rhys. The first, Dangerous Crossing, was a Richard & Judy book club pick in Autumn 2017. The most recent is Island of Secrets. She is a member of the Killer Women crime writing collective and lives in North London with her partner and three (allegedly) grown up children and her highly neurotic dog.
Interviews with Tammy Cohen
Psychological thrillers play on our fears that those closest to us can't be trusted and that even our homes aren't safe, explains Tammy Cohen, author of Stop at Nothing and They All Fall Down. She recommends five psychological thrillers and explains what it is that makes them so deeply unsettling and utterly gripping.