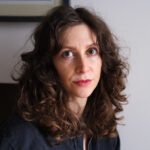 Thea Lenarduzzi
Thea Lenarduzzi is a writer, editor and broadcaster, primarily for the Times Literary Supplement. Dandelions, winner of the 2020 Fitzcarraldo Editions Essay Prize, was published in the UK in September 2022 and will appear in the US in spring 2023.
Interviews with Thea Lenarduzzi
The story of a family never ends, says Thea Lenarduzzi—the literary critic and author of the prize-winning family memoir Dandelions: "It's always evolving, rewriting itself, long after the protagonists are dead." Here, she recommends five books on family history that illustrate the shapeshifting nature of this hard-to-pin-down subject, in which memories rarely tally with the written record.