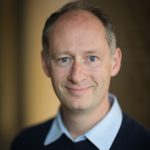 Thomas Hellmann
Thomas Hellmann is a professor at Saïd Business School, University of Oxford, where he is the Academic Director of the Entrepreneurship Centre. His areas of expertise are entrepreneurship, venture capital, innovation, contract theory, strategic management and public policy.
Interviews with Thomas Hellmann
What are the best books to read if you want to be an entrepreneur? Oxford Saïd Business School's Thomas Hellmann, DP World Professor of Entrepreneurship and Innovation, shares his top five books—and explains what entrepreneurs can learn from them.