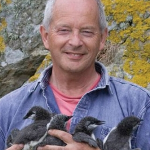 Tim Birkhead
Timothy Robert Birkhead
 is Professor of behaviour and evolution at the University of Sheffield, where he has been since 1976. His books include Bird Sense (2012), Ten Thousand Birds: Ornithology since Darwin (2014), and The Most Perfect Thing: the Inside (and Outside) of a Birds Egg (2016). His forthcoming book is The Wonderful Mr Willughby: the first True Ornithologist (2018), a biography of the pioneering seventeenth-century ornithologist.
Interviews with Tim Birkhead
Professor Tim Birkhead is one of the pioneers of spermatology. He explains how promiscuous females can be selective about sperm, even after multiple inseminations
Interviews where books by Tim Birkhead were recommended
Birds are everywhere. They capture our imagination and make us wish that we, too, could soar away. Jonathan Elphick eloquently recommends the best books on the wonders of birds.