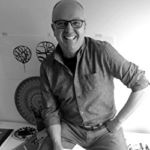 Tim Hopgood
Tim began his career writing and drawing for children after working for twenty years as a graphic designer and freelance illustrator. Often blasting Miles Davis and Stevie Wonder through his headphones, Tim has a deep love of music and enjoys listening while he paints and draws. He works mostly with Derwent sketching pencils and uses digital layering methods to create his artworks. He now lives with his wife, two children and cats in North Yorkshire.
Interviews with Tim Hopgood
Children have almost universal responses to different kinds of weather: kicking fallen leaves in autumn, splashing in puddles in the rain, catching snowflakes on tongues when it snows. We talk to author and illustrator Tim Hopgood about the weather as an inspiration for children's books.