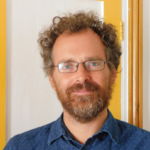 Toby Green
Toby Green is the author of a number of books, including Inquisition: The Reign of Fear (Macmillan, 2007), The Rise of the Trans-Atlantic Slave Trade in Western African 1300-1589 (Cambridge University Press) and A Fistful of Shells: West Africa from the Rise of the Slave Trade to the Age of Revolution (Penguin, 2019), which won a number of literary prizes. He is Professor of Precolonial and Lusophone African History and Culture at King's College, London. His latest book is The Covid Consensus: The New Politics of Global Inequality (C. Hurst & Co, published April 2021).
Books by Toby Green
***Winner of the 2019 British Academy Prize for Global Cultural Understanding***
"It's by Toby Green, who is at King's College London, and it's a history of West Africa before its colonisation by Europe—beginning with the Portuguese and going on to the French and the British and the Germans. The author looks at these very advanced, powerful, prosperous kingdoms in West Africa—like Oyo or Benin or Dahomey—and argues that until the rise of the slave trade disturbed the economic equilibrium, they traded on equal terms with the Islamic world to the north." Read more...
The Best History Books: the 2020 Wolfson Prize shortlist
Richard Evans, Historian
Interviews with Toby Green
The Papal, Spanish and Portuguese Inquisitions left records that are goldmines for historians. However, as Professor Toby Green explains, getting caught up in one of their investigations was no fun at all. Here he chooses five books to help you understand why the Inquisitions were created, what they were trying to achieve and why they lasted so long.
Interviews where books by Toby Green were recommended
If you're looking for the best history books published this past year, the annual Wolfson History Prize is a great place to start. Each year, the judges pick out outstanding books that are both originally researched and readable. Historian and Wolfson judge Richard Evans talks us through the six history books that made the 2020 shortlist.
Every year the British Academy's Nayef Al-Rodhan Prize is awarded to a nonfiction book that has contributed to 'global cultural understanding.' Cambridge professor Ash Amin, chair of this year's panel of judges, talks us through the fabulous books that made the 2019 shortlist and explains why they're so important.