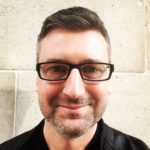 Tom Hunter
Tom Hunter is the current Director of the Arthur C Clarke Award, an annual award given for the best science fiction novel first published in the United Kingdom during the previous year. The award was established with a generous grant given by Sir Arthur C Clarke and the first prize was awarded in 1987 to Margaret Atwood's The Handmaid's Tale.
Interviews with Tom Hunter
Every year, the director of the Arthur C Clarke Award talks us through their six book shortlist. The 2021 crop of the best science fiction books features a "deliciously pulpy" space opera, a time travel story for young adults, and a cacophonous tale of talking animals. What they all have in common is that they are by debut authors, says Tom Hunter: they represent a new generation of sci fi writing.
Sci fi is booming, says Tom Hunter, the director of the Arthur C. Clarke Award for Science Fiction, as he discusses their 2020 shortlist: six novels that embrace classic sci fi narratives, while subverting or reimagining them for a contemporary audience.
If you're hoping to travel to a galaxy far, far away with your next book, these six excellent sci fi novels will help you on your way. Tom Hunter, the director of the Arthur C Clarke Award for science fiction books, discusses the 2019 prize shortlist.