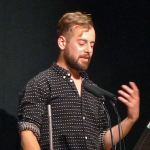 Tom Overton
Tom Overton is the editor of Portraits: John Berger on Artists (2015) and Landscapes (2016), two volumes of John Berger's writing about art published by Verso Books. He is currently working on Berger's biography, and The Good Archivist, a book on archives and migration, both for Allen Lane. He is a Fellow of the Centre for Life-Writing Research at King's College London, and a Writer in Residence at Jerwood Visual Arts.
Books by Tom Overton
In the preface to Portraits he denies being an art critic, in quite sweary terms. The way he characterises himself instead is as a storyteller. When he was writing his series of novels about peasants in the French Alps, he looked back at the rest of his works and said, "even when I was writing about art, it was really a way of story-telling."
Interviews with Tom Overton
The biographer and editor of John Berger reveals how Berger's self-characterisation as a storyteller is visible across the numerous genres he writes in.