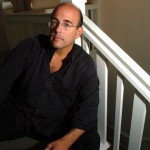 Tom Piazza
Tom Piazza writes for Treme, the new HBO show from The Wire creator David Simon. He is the author of nine books, including the novel City Of Refuge, which won the 2008 Willie Morris Award for Southern Fiction, and the post-Katrina manifesto Why New Orleans Matters. His other books include the Faulkner Society Award-winning novel My Cold War, the short-story collection Blues and Trouble, which won the James Michener Award for Fiction, and the forthcoming non-fiction collection Devil Sent The Rain. Also well-known as a music writer, Piazza won a 2004 Grammy Award for his album notes to Martin Scorsese Presents The Blues: A Musical Journey. He lives in New Orleans.
Interviews with Tom Piazza
Award-winning writer Tom Piazza explains his fascination with New Orleans. He recommends the five books that best represent the history and culture of the city (pre- and post-Katrina).
Interviews where books by Tom Piazza were recommended
Katrina was not a natural disaster but an engineering one, says the journalist and author. He chooses the best books on Hurricane Katrina, ranging from a novel to a geographical biography of New Orleans.