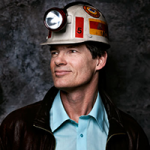 Tullis Onstott
Tullis Onstott, named one of the 100 most influential people in America by Time magazine, is professor of geosciences at Princeton University. In 2011 he co-discovered the deepest multicellular organism known to science: Halicephalobus mephisto, the worm from hell.
Interviews with Tullis Onstott
The 'subterranaut' describes how the discovery of ancient bacteria miles beneath the Earth's surface opens the possibility of finding life on Mars. He picks five books that show how our knowledge of life deep in this planet could lead us to discover it elsewhere.