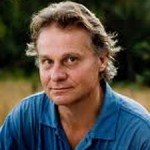 Wade Davis
Wade Davis is explorer-in-residence at the National Geographic Society in Washington DC. He is the author of 15 books, most recently Into The Silence: The Great War, Mallory and the Conquest of Everest. In 2009, he received the Gold Medal from the Royal Canadian Geographical Society and he is the 2011 recipient of the Explorer's Medal, the highest award of the Explorers Club
Interviews with Wade Davis
The explorer and author of Into the Silence, Wade Davis, tells us that the consequences of the Great War were much more than merely political. He says the war had a noticeable impact on exploration, arts and literature, and modernity itself.
Interviews where books by Wade Davis were recommended
"All the best stories are true" runs the tagline of the Baillie Gifford Prize for Non-Fiction, the UK's pre-eminent nonfiction book award. This year, to celebrate the prize's 25th birthday, a panel of judges picked out books for a winner of winners award, making for an excellent collection of nonfiction books from the last quarter of a century, as Five Books editor Sophie Roell explains.