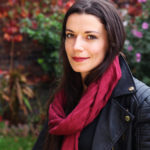 Cal Flyn, Deputy Editor
Five Books deputy editor Cal Flyn is a writer from the Highlands of Scotland.
Her latest book, Islands of Abandonment—about the ecology and psychology of abandoned places—is out now. It has been shortlisted for the 2021 Baillie Gifford Prize, the Wainwright Prize for writing on global conservation, the British Academy Book Prize, and for the title of Scottish Nonfiction Book of the Year.
At Five Books, she interviews on subjects including literary fiction and nonfiction, psychology, nature, environment, and science fiction.