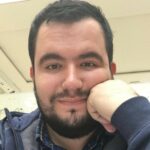 Ahmed Honeini
Ahmed Honeini teaches in the Department of English at Royal Holloway, University of London. He is the author of William Faulkner and Mortality: A Fine Dead Sound (Routledge, 2021). He has published with the Mississippi Quarterly and United States Studies Online and he is currently editing a special issue of the Faulkner Journal on transgressive fiction and postmodernism. He is also the founding director of the Faulkner Studies in the UK Research Network (@Faulkner_UK on Twitter).
Interviews with Ahmed Honeini
Where to start with the novels of the American writer William Faulkner, chronicler of the Old South and winner of the 1949 Nobel Prize in Literature? Here, Faulkner scholar Ahmed Honeini of Royal Holloway, University of London, recommends the best books by and about the man who tried to capture "the agony and sweat of the human spirit".