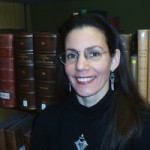 Amira Bennison
Amira Bennison is Professor in the History and Culture of the Maghrib at Cambridge University and a fellow of Magdalene College.
Interviews with Amira Bennison
Islamic scientific discoveries underpinned much of the European Renaissance and the Islamic world inspired Europe as much as Greece and Rome did, says Cambridge professor Amira Bennison. She recommends the best books to get a better understanding of the Islamic contribution to modern science.