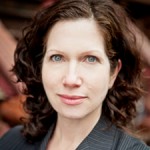 Amy Waldman
Amy Waldman reported for The New York Times for eight years. She won an Overseas Press Club Award for her work from South Asia and was part of the team that won a Pulitzer Prize for the "Portraits of Grief" series. She was also a correspondent for the Atlantic. Waldman is a graduate of Yale and was a fellow at the Radcliffe Institute for Advanced Studies. The Financial Times called her first novel, The Submission, "the best 9/11 novel to date"
Books by Amy Waldman
"The Submission is about how a nation memorializes tragedy. It's a fascinating work of fiction, written in the wake of 9/11, about an architectural competition to choose a design for the 9/11 memorial." Read more...
The best books on National Security
Interviews with Amy Waldman
Amy Waldman reported on the aftermath of 9/11 for the New York Times, but when it came to writing a book about it, she wrote a novel. The Submission was hailed as one of the best novels to come out of the tragedy, including by the Financial Times. Here, she chooses some of the best literature inspired by 9/11, including novels, a memoir and a book of poetry.
Interviews where books by Amy Waldman were recommended
National security isn't just about foreign policy and counterterrorism, but has a broad set of concerns—including climate change, national disasters and pandemics. Juliette Kayyem, Senior Lecturer in International Security at Harvard and author of Security Mom, recommends books to get us all thinking about national security and the challenges we face.