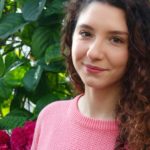 Anbara Salam
Anbara Salam is a novelist. She is half-Palestinian, half-Scottish, and grew up in London. She has a PhD in theology and now lives and works in Oxford. She is the author of the novels Things Bright and Beautiful and Belladonna.
Interviews with Anbara Salam
Boarding schools make great settings for novels, says Anbara Salam, author of coming-of-age drama Belladonna. The combination of immense privilege with the claustrophobia of a closed society can create an intense pressure cooker atmosphere in which characters might be forged.