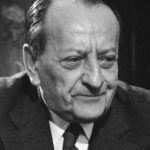 André Malraux
André Malraux (1901 – 1976) was a French writer that also served as minister in the French government under Charles de Gaulle.
Books by André Malraux
"Man's Fate is about the suppression of the labour movement and the nascent Communist Party of China on April 12th, 1927, a massacre which at that time was on the front-page of every newspaper in the world. It's an incredible novel, and has one of the best opening scenes of any novel I can think of." Read more...
Paul French, Journalist
"Fallen Oaks is based on the last conversation the two men had in 1969 at Colombey-les-Deux-Eglises where de Gaulle had retired to. The key question Malraux is asking in this book is 'What is it that makes France a great nation?' And, according to Malraux, de Gaulle's idea of greatness is not military force, grandiloquence or any kind of flashiness, but the idea that France stands for a set of republican values: freedom, equality, justice. He also ponders on why de Gaulle is such a great figure and it comes down to the fact that there's an almost religious quality to him. He's a bit like the leader of a religious cult – he's separate, he's solitary, but he has this ability to take ordinary events and transform them into mythical events. It's not de Gaulle the politician that comes out of this book; it's de Gaulle the creator of myths." Read more...
The best books on Charles de Gaulle's Place in French Culture
Sudhir Hazareesingh, Political Scientist
Interviews where books by André Malraux were recommended
Hazareesingh's book choices include de Gaulle's "very readable" war diaries. In books of condolences after the leader's death, people wrote things like, "Goodbye Charles, you were greater than Napoleon"
Though it was the fifth biggest city in the world in the years following the Second World War, there aren't nearly as many novels set in Shanghai as there are in Paris, Berlin and other international cities. Author and expert on modern Chinese history Paul French takes a look at the literary history of an often underwritten city from the 1930s through to the new millennium.