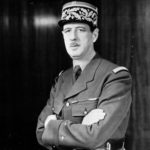 Books by Charles De Gaulle
"A fascinating book. I've got about twenty books, mainly in French, about de Gaulle, and I can't find – to my sorrow – Le Fil de L'Epée, which I think was translated into English as 'The Blade of the Sword' or something. It was written in the early 30s when de Gaulle was a colonel in the French army, and in the book he describes what a leader should be and do. It's fascinating in that it is an exact description of the way he behaved when he was a leader during and after the war. Having observed him a bit at the time and seeing him come back to power, I can see that it's a description of what enabled him to be the strong leader that he was. It's almost an autobiography, written before rather than after. He described how a great leader ought to behave, and then he went on to behave that way ten years later. His impact on French diplomacy was incredible. He was an international diplomat of the calibre of anybody you like." Read more...
Michael Palliser, Diplomats & Former Diplomat
"De Gaulle wrote his memoirs in the 1950s when he was out of power. He's writing them for a very explicit purpose, which is the creation of his own legend. It was a piece of very self-conscious mythmaking. It was making him into the central figure of what happened in France between 1940 and 1944. For example, he rather underplays the role of the internal resistance, and many resistors much resented the fact that de Gaulle didn't give them enough space. But the story he wanted to tell was really about the military resurrection of France." Read more...
The best books on Charles de Gaulle
Julian Jackson, Historian
Interviews where books by Charles De Gaulle were recommended
Charles de Gaulle had 'a certain idea of France' which even he didn't manage to articulate clearly. De Gaulle biographer and one of Britain's leading historians of modern France, Julian Jackson, talks us through some key books to get a sense of France's wartime leader and president, Charles de Gaulle.
Hazareesingh's book choices include de Gaulle's "very readable" war diaries. In books of condolences after the leader's death, people wrote things like, "Goodbye Charles, you were greater than Napoleon"
Veteran diplomat Michael Palliser discusses his friend Henry Kissinger's diplomatic skills and says his experiences in post-war Germany made him a committed European
Books by Charles De Gaulle