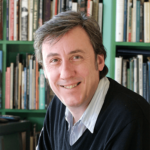 Andrew Graham-Dixon
Andrew Graham-Dixon is one of the leading art critics and presenters of arts television in the English-speaking world.
Andrew has presented numerous landmark documentaries on art for the BBC, including the acclaimed A History of British Art, Renaissance, and Art of Eternity. He has written a number of acclaimed books on subjects ranging from medieval painting and sculpture to the art of the present.
He has a long history of public service in the field of the visual arts, having judged the Turner Prize and the BP National Portrait Prize.
Books by Andrew Graham-Dixon
Interviews with Andrew Graham-Dixon
Art critic Andrew Graham-Dixon takes us through his favourite art books, one of which is the best thing he has ever read about art. He contends that Monet is a follower of Turner, reflects on how the purpose of history of art has changed, and introduces us to the diaries of an "astonishingly bad" painter which reveal him to be one of the nineteenth century's greatest prose writers.