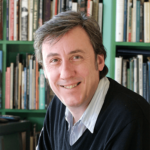 Andrew Graham-Dixon
Andrew Graham-Dixon is one of the leading art critics and presenters of arts television in the English-speaking world.
Andrew has presented numerous landmark documentaries on art for the BBC, including the acclaimed A History of British Art, Renaissance, and Art of Eternity. He has written a number of acclaimed books on subjects ranging from medieval painting and sculpture to the art of the present.
He has a long history of public service in the field of the visual arts, having judged the Turner Prize and the BP National Portrait Prize.
Books by Andrew Graham-Dixon