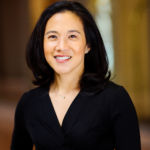 Angela Duckworth
Angela Duckworth is the Founder and CEO of Character Lab, a nonprofit whose mission is to advance the science and practice of character development. She is also the Christopher H. Browne Distinguished Professor of Psychology at the University of Pennsylvania, faculty co-director of the Penn-Wharton Behavior Change For Good Initiative, and faculty co-director of Wharton People Analytics. A 2013 MacArthur Fellow, Angela has advised the White House, the World Bank, NBA and NFL teams, and Fortune 500 CEOs. Her latest book is the best-seller Grit: The Power of Passion and Perseverance. She can be found on Twitter @angeladuckw.
Books by Angela Duckworth
Grit: The Power of Passion and Perseverance by Angela Duckworth brilliantly summerises everything she learnt as a scientist who studies high achievers. What really drives success: not genius, but a unique combination of passion and long-term perseverance.