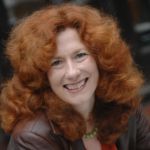 Angela Hobbs
Angela Hobbs is Professor of the Public Understanding of Philosophy at the University of Sheffield. She is the author of the Ladybird Expert Book on Plato's Republic, a wonderful introduction to the world of Plato for teenagers (or adults) as well as Plato and the Hero. She is a contributor to the Routledge Encyclopedia of Philosophy.
Books by Angela Hobbs
Plato's Republic is one of our most recommended books on Five Books and one of the greatest works of philosophy ever written. It can be a difficult book to read. Plato's Republic: A Ladybird Expert Book explains very clearly what it's all about in just 24 pages (of text, there, are also lovely illustrations). It explains the context and introduces the most important topics that Plato's Republic covers. The author, Angie Hobbs, is a leading Plato scholar (and Five Books interviewee) and has also written a 100,000-word book on Plato's Republic. As she confesses, "in some ways this was harder."
While Socrates was focused more on how individuals should live, Plato was more political. It was he who first used the term "enemy of the people," a phrase that appears in the Republic. As philosopher Rebecca Goldstein says, "so much in Plato's Republic feels starkly, even horrifyingly, relevant today."