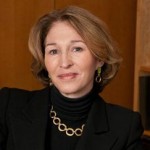 Anne-Marie Slaughter
Anne-Marie Slaughter is the president and CEO of New America, a think ​and action ​tank dedicated to renewing America in the Digital Age. She is also the Bert G. Kerstetter '66 University Professor Emerita of Politics and International Affairs at Princeton University. From 2009–2011, she served as director of policy planning for the United States Department of State, the first woman to hold that position.
Books by Anne-Marie Slaughter
Interviews with Anne-Marie Slaughter
Renowned foreign policy expert Anne Marie-Slaughter looks at the increasingly complex networks in which 21st century states find themselves.
Interviews where books by Anne-Marie Slaughter were recommended
Reports of the death of the world's only superpower may have been exaggerated, but America's inward turn is threatening the world order it created after World War II. Foreign policy analyst Ali Wyne talks us through books to better understand America's current role in the world.