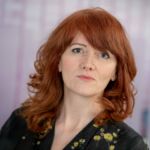 Annebella Pollen
Annebella Pollen is a cultural historian who researches modern art and design, fashion and photography across a range of periods and case studies. Her books include Mass Photography: Collective Histories of Everyday Life, which examines large scale snapshot archives, The Kindred of the Kibbo Kift: Intellectual Barbarians, a study of the avant-garde art practices of a utopian youth movement in 1920s England, and Nudism in a Cold Climate: The Visual Culture of Naturists in Mid-20th-Century Britain. She is Reader in History of Art and Design at University of Brighton, UK.
Books by Annebella Pollen
Interviews with Annebella Pollen
Nudity is not the same as the nude. Nor is nudity the same as nudism, but they tend to overlap quite a lot in people's minds. Annebella Pollen, an authority on the many varied forms of British nudism in the twentieth century shares key influences on her own research to help us unpack (or undress?) the idea of nudity in western culture, showing the many ways in which nakedness can be a form of dress.
Books by Annebella Pollen