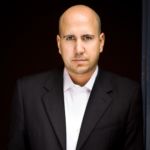 Anthony Franze
Anthony Franze is a lawyer in the Appellate and Supreme Court practice of a prominent Washington, DC law firm, and a critically acclaimed novelist with St Martin's Press. His books include The Advocate's Daughter and The Outsider, and he is a vice president of the International Thriller Writers association of authors.
Interviews with Anthony Franze
Every year, the International Thriller Writers awards highlight the best new thrillers of the previous year. Anthony Franze, administrator of the awards and an acclaimed thriller author in his own right, talks us through their 2020 shortlist for the best new thriller published in hardback.
Looking for a pacy, suspenseful thriller that keeps you racing through the pages? Look no further. Anthony Franze, author and coordinator of the International Thriller Writers' annual awards, talks us through some of the books that made the shortlist for the best thrillers of 2019.