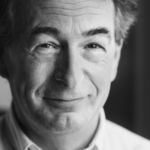 Books by Anthony Gottlieb
A short book combining extracts from the work of one of the world's greatest thinkers with commentary from one of Britain's most distinguished writers on philosophy.
The author re-examines the basic assumptions of philosophical thought from the pre-Socratic philosophers to Erasmus.
Interviews with Anthony Gottlieb
The philosopher and former executive editor of The Economist, Anthony Gottlieb, discusses religion and suggests that belief in God only truly declines in a society when economic development brings existential security.
Interviews where books by Anthony Gottlieb were recommended
Philosophy raises fundamental questions about the world around us and how we should live our lives. Fortunately, a range of popular books now available mean you too can grapple with some of these issues. Philosopher and author Nigel Warburton picks his favourite philosophy books of 2016.