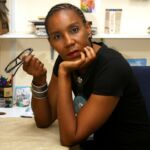 Blessing Musariri
Blessing Musariri is an award-winning author of short stories, children's stories, radio and screenplays and contemporary adult fiction. She currently resides in Zimbabwe. Her short stories and poetry have appeared in various anthologies including Sunflowers in Your Eyes, Women Writing Zimbabwe, Writing Free and Writing Lives. Her work has been published by the Guardian, Granta, Poetry International, and her poem "Holding On" was read out on the BBC World Service Christmas Special 2005.
Books by Blessing Musariri
Interviews with Blessing Musariri
"We are connected to the spirit and it's an active connection. It's not somewhere that's only in the afterlife, it's here in the present as well. That, I think, is endemic across all African cultures and traditions," says Zimbabwean novelist and poet Blessing Musariri. Here she recommends some of the best African novels, books that had a big personal impact and have stayed with her.