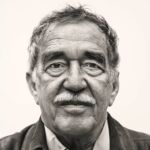 Books by Gabriel García Márquez
"Crónica de una muerte anunciada is my favorite book by Gabriel García Márquez. I just love it. I read it when I was 13 or 14. It's a book that as soon as I finished it I started reading again, and again, and again. I was obsessed with it. It truly made me want to become a writer. I said, 'I want to write a book one day that will obsess a person like this book obsessed me.' Since then, I've read it many, many times. I teach it in my workshops, I work with it. It's a perfect novel. Every creative writing lesson that you want to give is in there: the narrator, the narrative times, the universe, the character development. I just loved it. And it's a short novel, which is a very difficult genre. A big novel, you can sometimes write a vague paragraph, or a sentence that doesn't quite work. But with a short novel, as with a short story, the whole thing has to be good." Read more...
Pilar Quintana, Novelist
"What García Márquez does is tell a story of the history and culture of Latin America from the point of view of the ordinary person. He manages to do that through this deadpan narrator who can mix the savagely real with the wonderful, and narrate a family saga which is also a history of Latin America. This book really put Latin American literature on the international map because it is a novel which, while deeply Latin American, is also accessible to all readers." Read more...
The Best Latin American Novels
John King, Literary Scholar
"This is about love as opposed to sex. He's talking about love in all its forms, including unrequited love that goes on for 50 years…It's partly such a passionate book because of the beauty of the prose, describing love through time and how she found contentment – love, passion and sex all in one. The prose just drips sexuality and sensuality. It's sexy enough without having to read about deep positions or anything" Read more...
The best books on Sex and Marriage
Kate Figes, Journalist
Interviews where books by Gabriel García Márquez were recommended