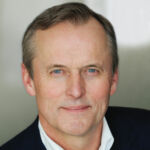 John Grisham
John Grisham is a writer of pacy legal thrillers, often with a serious edge, and a range of authors have included his books as among their favourites.
Grisham shot to international fame after he published his second book, The Firm, in 1991. For many, it remains his best book. According to fellow bestselling author, Jeffrey Archer: "If you've never read John Grisham, The Firm is the one to start on, because his genius is that he was a professional lawyer as a young man, after coming down from university."
Grisham is a prolific writer, sometimes producing two books in one year. All his books, with a focus on his most recent, can be found here.
Interviews where books by John Grisham were recommended
Everyone's on the run from something in their life. Bestselling author Louise Bagshawe recommends some of her favourite chase stories, a world of jailbreaks, secret documents, beautiful heroines, honour, revenge, death and glory.
The English legal system is struggling to ensure justice. Drastic government cuts and disastrous reforms have led to innocent people being let down by the system again and again. Reporting anonymously from the front line, The Secret Barrister sees it as their duty to keep the public informed. Here they discuss the books that have shaped the way they think about justice and its relation to the law.
With so many works of detective fiction coming out each year, which books stand the test of time? Here, bestselling British author Jeffrey Archer talks us through some of his favourites, the books he found completely unputdownable and made him want to read everything the author had written.