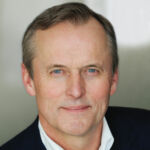 John Grisham
John Grisham is a master of legal thrillers with broad appeal, hence a range of experts have included his books in their reading lists.
If you're new to John Grisham we have a recommendation of where to start: "Now, if you've never read John Grisham, The Firm is the one to start on, because his genius is that he was a professional lawyer as a young man, after coming down from university." Jeffrey Archer.
His latest book is Sparring Partners due out May 31st 2022.
Books by John Grisham
"It's probably the best thing Grisham has ever done. It came out 30 years ago. It's a wonderful story about a young man who leaves Harvard third in his class. Every law firm in the country is desperate to get hold of him. He comes from a poor family, he's just got married, and he gets an offer he just can't refuse. He gets a wonderful salary, wonderful provisions, wonderful everything. It includes what he thought was important at the time, a BMW." Read more...
Jeffrey Archer, Novelist
"This was the holiday-reading book which, as a teenager, inspired me to pursue criminal law. The gritty reality of criminal practice is of course somewhat removed from the fictionalised ideal, and any lawyer acting in the way that our hero Jake Brigance does in securing a just outcome for his innocent client would have to deal with fairly serious professional consequences, but the underlying themes transcend time and realities." Read more...
The best books on Justice and the Law
The Secret Barrister, Lawyer
"This was probably the last book I read where I literally stayed up until three o'clock in the morning because I could not stop reading it. I just think it is such a brilliant fast-paced story. The characterisation is sparse, terse, but nevertheless really well-drawn. He doesn't do psychology but it's a chase story with an ongoing mystery in the back." Read more...
Louise Bagshawe, Novelist
Interviews where books by John Grisham were recommended
Everyone's on the run from something in their life. Bestselling author Louise Bagshawe recommends some of her favourite chase stories, a world of jailbreaks, secret documents, beautiful heroines, honour, revenge, death and glory.
The English legal system is struggling to ensure justice. Drastic government cuts and disastrous reforms have led to innocent people being let down by the system again and again. Reporting anonymously from the front line, The Secret Barrister sees it as their duty to keep the public informed. Here they discuss the books that have shaped the way they think about justice and its relation to the law.
With so many works of detective fiction coming out each year, which books stand the test of time? Here, bestselling British author Jeffrey Archer talks us through some of his favourites, the books he found completely unputdownable and made him want to read everything the author had written.