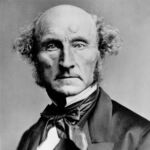 John Stuart Mill
John Stuart Mill (1806-1873) was an English philosopher who is probably best known as a liberal. His classic "philosophic textbook of a single truth" (as he called it), On Liberty, was published in 1859 and is, by general agreement, the best clear, short statement of the key idea of liberalism: that individuals should have extensive freedom up to the point where they risk harming others.
Mill is also famous for developing his mentor Jeremy Bentham's utilitarianism and taking it off on a slightly different track. Whereas for Bentham every kind of pleasure was treated equally in what he called the 'philosophic calculus,' Mill introduced the notion that when you're maximizing happiness for the greatest number of people, it's possible to distinguish between higher and lower pleasures.
He was a polymath. As described in Mill's autobiography, he had a hothouse education, learning Latin and Greek from a very early age, reading widely in a huge range of subjects, and disputing with his father on long walks. The best biography of Mill is probably John Stuart Mill: Victorian Firebrand by Richard Reeves. It's a well-written, fascinating account of Mill's very varied life and thought.
Books by John Stuart Mill
John Stuart Mill wrote his memoir because while he described his life as "uneventful" he thought it might be of interest to people because of his "unusual and remarkable" education. He also wanted to acknowledge the varied thinkers who had influenced him. This included his wife, Harriet Taylor, with whom he worked closely. Mill wrote that his most famous book, On Liberty, "was more directly and literally our joint production than anything else which bears my name, for there was not a sentence of it that was not several times gone through by us together, turned over in many ways, and carefully weeded of any faults, either in thought or expression, that we detected in it."
Is diversity of opinion valuable? Why should we care about free speech? When can someone legitimately interfere in our lives to stop us from doing something? What should restrict the scope of our personal liberty?
On Liberty by John Stuart Mill was originally published in 1859, but his exploration of these questions still feels incredibly contemporary. On Liberty remains a central text of the modern liberal tradition, as our interviews below with philosophers, politicians, historians and political commentators make clear.
Utilitarianism is the classic text by the great 19th-century utilitarian, John Stuart Mill. It's not always easy to read, but worth the effort.
Interviews where books by John Stuart Mill were recommended
Books by John Stuart Mill