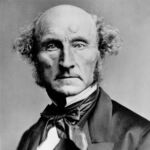 John Stuart Mill
John Stuart Mill (1806-1873) was an English philosopher who is probably best known as a liberal. His classic "philosophic textbook of a single truth" (as he called it), On Liberty, was published in 1859 and is, by general agreement, the best clear, short statement of the key idea of liberalism: that individuals should have extensive freedom up to the point where they risk harming others.
Mill is also famous for developing his mentor Jeremy Bentham's utilitarianism and taking it off on a slightly different track. Whereas for Bentham every kind of pleasure was treated equally in what he called the 'philosophic calculus,' Mill introduced the notion that when you're maximizing happiness for the greatest number of people, it's possible to distinguish between higher and lower pleasures.
He was a polymath. As described in Mill's autobiography, he had a hothouse education, learning Latin and Greek from a very early age, reading widely in a huge range of subjects, and disputing with his father on long walks. The best biography of Mill is probably John Stuart Mill: Victorian Firebrand by Richard Reeves. It's a well-written, fascinating account of Mill's very varied life and thought.
Books by John Stuart Mill
John Stuart Mill wrote his memoir because while he described his life as "uneventful" he thought it might be of interest to people because of his "unusual and remarkable" education. He also wanted to acknowledge the varied thinkers who had influenced him. This included his wife, Harriet Taylor, with whom he worked closely. Mill wrote that his most famous book, On Liberty, "was more directly and literally our joint production than anything else which bears my name, for there was not a sentence of it that was not several times gone through by us together, turned over in many ways, and carefully weeded of any faults, either in thought or expression, that we detected in it."
"What this book does is hammer home one truth. Mill described it as a 'philosophic textbook of a single truth'. According to him it was hugely influenced by his discussions with his wife, Harriet Taylor, though she didn't physically write it, and it's his name on the cover. As the title suggests, it's focused on liberty, on freedom. It puts forward what's come to be known as 'the harm principle' which is that the only justification for the state or other people interfering with the lives of adults is if they risk harming others with their actions" Read more...
Key Philosophical Texts in the Western Canon
Nigel Warburton, Philosopher
Utilitarianism is the classic text by the great 19th-century utilitarian, John Stuart Mill. It's not always easy to read, but worth the effort.
Interviews where books by John Stuart Mill were recommended
Books by John Stuart Mill