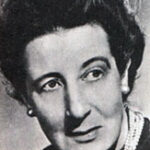 Josephine Tey
Josephine Tey (1896-1952) was one of the great mystery writers of the golden age of mystery, who sadly died young and published only a dozen books. Born in Inverness in Scotland, her real name was Elizabeth Mackintosh. Her other pseudonym was Gordon Daviot. She was also a playwright, and her 1933 play, Richard of Bordeaux, ran for a year and starred John Gielgud. Her books are of their time but easy to read with satisfying plots. Many, but not all, feature Detective Inspector Alan Grant of Scotland Yard. If you're into the murder mystery genre, you'll probably want to read them all, though our personal favourite is the standalone novel Brat Farrar.
Interviews where books by Josephine Tey were recommended
Since the early stories of the 18th and 19th centuries, crime fiction has been an incredibly popular and enduring genre, the investigation of murder somehow capturing the imagination of millions of readers around the globe. Here, Sophie Roell, editor of Five Books, uses strict but simple criteria to pick out the best classic crime fiction, from the Victorian age through to the 1950s.
North Scotland is wonderful countryside, a marvellous setting for a murder. The wind just screams from horizon to horizon – it's like living in a speeded-up nature film. You open up the kitchen door and catch a passing sheep…