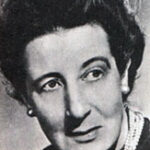 Josephine Tey
Josephine Tey (1896-1952) was one of the great mystery writers of the golden age of mystery, who sadly died young and published only a dozen books. Born in Inverness in Scotland, her real name was Elizabeth Mackintosh and she was also a playwright. Her books are easy to read but with very satisfying, twisty plots. Many, but not all, feature Detective Inspector Alan Grant of Scotland Yard. If you're into the murder mystery genre, you'll probably want to read them all.
Books by Josephine Tey
Brat Farrar is set on the south coast of England after World War II and it's about a family called Ashby. Both parents have died in an accident, so it's Aunt Beatrice who is bringing up her nieces and nephews. On no account find out anything else about this book online before reading it!
"This book is just so well crafted. Everything seems to be building up against the two women, that it looks as if they really did kidnap this girl, and keep her locked in the attic – and how on earth are they going to get out of it? It's just very, very well done. The Daughter of Time was a classic, where her detective goes out to prove that Richard III didn't kill the Princes in the Tower, but The Franchise Affair remains my favourite. It's just lovely writing." Read more...
M C Beaton, Thriller and Crime Writer
Interviews where books by Josephine Tey were recommended
North Scotland is wonderful countryside, a marvellous setting for a murder. The wind just screams from horizon to horizon – it's like living in a speeded-up nature film. You open up the kitchen door and catch a passing sheep…