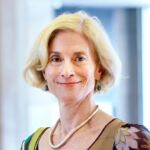 Martha Nussbaum
Martha Nussbaum is an American philosopher, a professor at the University of Chicago and one of the top living philosophers. She is probably best known as a political and ethical thinker. Her background is in Classics and her writing often launches from a deep understanding of thinkers of the past. She has written extensively on Aristotle and other ancient thinkers. With Amartya Sen, she put forward the 'capabilities approach' to understanding human welfare, which is a cross-disciplinary approach to what matters to people beyond economic concerns and how that might be measured. Most recently, she's been focused on the issue of how we should treat other animals.
Books by Martha Nussbaum
Out early in 2023, Justice for Animals by American philosopher Martha Nussbaum is a call to action to protect the wide variety of species across the animal kingdom that are under threat or suffering in the world today.
***🏆 A Five Books Book of the Year ***
"Lurking behind it is Seneca: the Roman philosopher who talked about anger being a useless emotion." Read more...
Nigel Warburton, Philosopher
Interviews where books by Martha Nussbaum were recommended
Philosophy raises fundamental questions about the world around us and how we should live our lives. Fortunately, a range of popular books now available mean you too can grapple with some of these issues. Philosopher and author Nigel Warburton picks his favourite philosophy books of 2016.