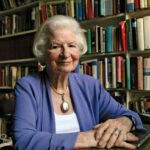 P D James
Phyllis Dorothy James (1920 – 2014), was an English detective novelist. Her most famous detective was Adam Dalgleish.
Books by P D James
"Innocent Blood is about a young woman who discovers that she was adopted, and that her biological mother went to prison for murder. She decides to contact her mother, and the story is about the relationship between these two women—and what happens after. The mother comes across, again, as an ordinary woman who did an extraordinary thing. We, the readers, are invited to see this person as more complex than we might have first thought. It's a challenge to the idea that we know what a murderer is like." Read more...
The best books on The Psychology of Killing
Gwen Adshead, Medical Scientist
"She's a fine writer. I knew her in the House of Lords, of course. She was an absolutely delightful, charming person. This is the first of the Cordelia Gray series, who is a very tough, very intelligent, frankly, a very PD James woman. I mean, she could have been writing about herself." Read more...
Jeffrey Archer, Novelist
"I've started and finished with books that are literary thought experiments. In science, you can learn a lot from a well-conceived thought experiment. In German, it's called 'gedankenexperiment,' and we often use that word, even in English, because it's such an important way of thinking. It was important in the development of quantum theory. The gedankenexperiment that PD James does here, is to say: 'Suppose that nobody could have any children anymore. How then would we live? What would we live for? And what would our purpose be?' She explores how different people would respond, and how different people would live in that situation. The people born in the last generation, called the Omega children, run amuck. Like in the last book we'll look at, there are two people closely related who have different fortunes. In this case they're cousins. There's the narrator, who is an Oxford academic and his cousin, who ends up as the warden of the whole of England." Read more...
The best books on Nature of Reality
Andrew Briggs, Physicist
Set in a near-future (this time, in England), in which the entire population has been rendered infertile, this dystopian classic also explores themes of human reproduction and political dissidence. You might be familiar with it as the book that formed the bedrock of Alfonso Cuarón's hit 2006 film of the same name, which starred Julianne Moore and Clive Owen, although Cuarón made significant alterations to James's original plot. It's well worth returning to the original text. The Children of Men was first recommended on our site by the physicist Andrew Briggs, in his interview on books about the nature of reality.
From our article Books like The Handmaid's Tale
Interviews where books by P D James were recommended
When addressing the really fundamental questions in science, researchers must assume that there is an objective reality to describe. But the nature of that reality may be more subtle, allowing space for the existence of God, says Andrew Briggs, professor of nanomaterials at Oxford University.
With so many works of detective fiction coming out each year, which books stand the test of time? Here, bestselling British author Jeffrey Archer talks us through some of his favourites, the books he found completely unputdownable and made him want to read everything the author had written.
Does anyone have the capacity to commit homicide? Forensic psychiatrist and bestselling author Gwen Adshead raises the chilling possibility that maybe they do, as she recommends five of the best books on the psychology of killing.