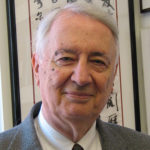 Roderick MacFarquhar
Roderick MacFarquhar (1930 – 2019) was Harvard University's Leroy B Williams Professor of History and Political Science. From 1986-1992, he was the director of Harvard University's Fairbank Centre for China Studies. He was the leading western scholar of the Cultural Revolution,  the decade of turmoil that terrorized China beginning in 1966, and his The Origins of the Cultural Revolution is firmly cemented as a classic in the field.
Books by Roderick MacFarquhar
Interviews with Roderick MacFarquhar
Countries do have to come to terms with their own history, and it's unhealthy that China has not yet come to terms with the Cultural Revolution, argues the West's leading scholar of the period, Roderick MacFarquhar. He chooses the best five books on the Cultural Revolution.
Interviews where books by Roderick MacFarquhar were recommended
While researching Maoism, China expert Julia Lovell battled against two incorrect assumptions: "firstly that Maoism is a story of China; and secondly that Maoism is a story of the past." Here she recommends five books for coming to grips with the global, still-relevant impact of Maoism.
Books by Roderick MacFarquhar