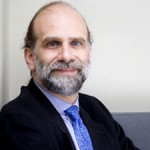 Bruce Schneier
Bruce Schneier is an American security specialist, cryptographer and writer, described by The Economist as a "security guru". He has written several books, and articles and op eds for publications including The New York Times and The Washington Post.
Interviews with Bruce Schneier
Modern society depends on trust more than we realise, and the basis for that trust is security. The trick, says the security guru, is preserving the forces that allow us to trust one another, while also knowing who not to trust.
Interviews where books by Bruce Schneier were recommended
Modern market economies face a growing malaise, says activist and science fiction author Cory Doctorow: powerful actors creating 'chokepoints' between producers and consumers, causing untenable conditions for both. Here he picks out the best books he's reviewed over the last two years and explains why they're important.