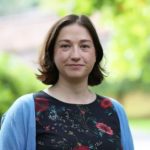 Books by Caroline Crampton
The Way to the Sea by Caroline Crampton traces the River Thames from source to sea by way of London Bridge and its silty, history-strewn estuary. This is a genre-crossing nonfiction debut from a promising British writer.
We spoke to the author, Caroline Crampton, to find out more...
Interviews with Caroline Crampton
The 'golden age' of detective fiction is usually considered to end suddenly with the outbreak of the Second World War. But many of the era's leading novelists continued to write prolifically throughout, says Caroline Crampton, creator of the popular Shedunnit podcast. Here she selects five of the best wartime mysteries.
Looking for a cosy mystery to settle down with in front of the fire this holiday season? Look no further. We asked Caroline Crampton, creator and host of the Shedunnit podcast, to recommend her favourite classic mystery books set during the Christmas period.
Books by Caroline Crampton