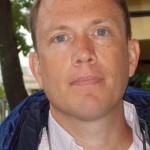 Chris Walsh
Chris Walsh is acting director of the College of Arts and Sciences Writing Program at Boston University and has also taught at Harvard University and the University of Ouagadougou in Burkina Faso. His work has appeared in Aeon, Essays in Criticism, Times Higher Education, and The Yale Review.
Interviews with Chris Walsh
The acting director of the Writing Program at Boston University argues that cowardice can still be part of our ethical vocabulary, but that we must learn from history's mistaken identification of the traumatised as cowards.