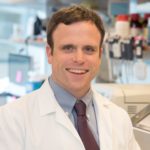 Christopher Mason
Christopher E. Mason is a geneticist and computational biologist who has been a Principal Investigator and Co-investigator of seven NASA missions and projects. He is Professor at Weill Cornell Medicine, with affiliate appointments at the Meyer Cancer Center, Memorial Sloan Kettering Cancer Center, the Information Society Project (ISP) at Yale Law School, and the Consortium for Space Genetics at Harvard Medical School.
Books by Christopher Mason
Have you ever worried about what will happen 4.7 billion years from now, when the Earth is so close to the Sun that we won't be able to live on it anymore? Or trillions of years from now, when the universe will most likely come to an end? Many of us haven't, but Chris Mason, a geneticist who runs a lab at Weill Cornell Medicine and focuses on the effects living in space has on the body, has. A lot. You can already imagine the blockbuster movie: the hero who saves humanity because he worried about things no one else did. In this book, The Next 500 Years, Mason lays out his plan for leaving our solar system, including the genetic engineering required so our bodies are better adapted to space and the possible transport options for getting there.
We also spoke to Chris about the best space travel science fiction, some of it more science than fiction.
Interviews with Christopher Mason
Space travel may be the stuff of science fiction but some of it is getting closer and closer to becoming reality. What's more, we have a duty to pursue it, says Christopher Mason, Professor of Genomics, Physiology, and Biophysics at Weill Cornell Medicine and author of The Next 500 Years, a blueprint of how to set about leaving our solar system. Here, he recommends his favourite science fiction about space travel, and an essential philosophy book.
Books by Christopher Mason