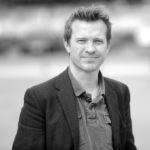 Christopher Riley
Christopher Riley was born seven weeks before the iconic Saturn V rocket made its first test flight in 1967. Riley is now a film producer, director and writer specialising in science, engineering and history. His work has been celebrated by BAFTA, the US Television Academy, the Royal Television Society, the Sundance Institute and the Grierson Trust.
He conceived and co-produced the multi award-winning feature documentary In the Shadow of the Moon, produced and directed the hit documentary recreation of Gagarin's pioneering space flight First Orbit, and wrote the bestselling Haynes Owner's Workshop Manual on Apollo. He has been a regular contributor to The Guardian newspaper and presented science documentaries for BBC Radio 4. Chris lives in Richmond, Surrey.
Books by Christopher Riley
"You've got to remember that honouring Kennedy's challenge of landing a man on the moon and returning him safely to the Earth required an enormous effort. It was the work of 400,000 people for a decade, so four million human years of work went into solving the elaborate daisy-chain of engineering challenges that allowed you to do this journey to the surface of the Moon, collect some rocks, explore, and come back." Read more...
Christopher Riley, Film Director