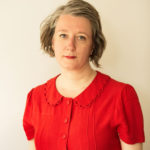 Claire Fuller
Claire Fuller was born in Oxfordshire, England, in 1967. She gained a
degree in sculpture from Winchester School of Art, but went on to have a
long career in marketing and didn't start writing until she was forty. She has
written four novels: Our Endless Numbered Days, which won the
Desmond Elliott Prize; Swimming Lessons, which was shortlisted for the
RSL Encore Award; Bitter Orange and Unsettled Ground. She has an MA in Creative and Critical Writing from the University of Winchester and lives in Hampshire with her husband and two children.