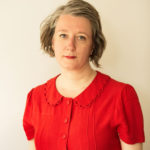 Claire Fuller
Claire Fuller was born in Oxfordshire, England, in 1967. She gained a
degree in sculpture from Winchester School of Art, but went on to have a
long career in marketing and didn't start writing until she was forty. She has
written four novels: Our Endless Numbered Days, which won the
Desmond Elliott Prize; Swimming Lessons, which was shortlisted for the
RSL Encore Award; Bitter Orange and Unsettled Ground. She has an MA in Creative and Critical Writing from the University of Winchester and lives in Hampshire with her husband and two children.
Interviews with Claire Fuller
The acclaimed novelist Claire Fuller, author of Unsettled Ground, recommends five of the best novellas: short works of fiction that offer the power and intensity of a novel in little more than 100 pages. From an epic-in-miniature set in the American West to an infamous story of bestial love, these books offer short, sharp shocks of fiction that can be enjoyed over a single evening.