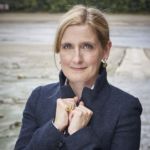 Cressida Cowell
Cressida Cowell is a children's novelist who penned the How to Train Your Dragon book series. She also collaborated with artist Neal Layton on the popular Emily Brown series.
Cressida won the Nestle Children's book award in 2006 and the How to Train Your Dragon film has been nominated for the 2011 BAFTAs and the Oscars. Cressida won Philosophy Now magazine's 'Contributions in the Fight Against Stupidity Award' in November 2015.
Interviews with Cressida Cowell
From wizards to alchemy and fairies to folklore, Cressida Cowell reveals the magical stories that were most important to her as a child (and which she now delights in sharing with her own children), and her own inspirations for writing about magic and magical worlds today.