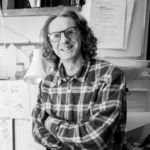 Neal Layton
Neal Layton was born and raised in Chichester, West Sussex.
While he was growing up he spent much of his time playing in the dirt, making homemade catapults and drawing pictures. He went to Art College studying Graphic Design and MA Illustration at Central Saint Martins.
He uses all sorts of different media to make his illustrations: pencils, paint, pens, ink, pieces of collage, biros, photocopiers, cameras, a computer, bits of stick, old toothbrushes, dough, hair, leaves, anything that comes to hand…
He likes his illustrations to appear as fresh and spontaneous as possible.