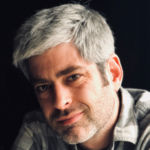 Books by Dan Hooper
At The Edge of Time by astrophysicist Dan Hooper is a popular science book that explains, in lay person's terms, not only what we know out about the universe to date, but also what we don't know about it. "Right now, there's a culmination of mysteries in cosmology that need to be told as a coherent story," he says in his Five Books interview on the Big Bang. "Maybe we're in the 1904 of cosmology right now, and we're going to tear down everything we think we know to the ground and build something entirely new."
Interviews with Dan Hooper
Before Einstein, how the universe began was a question for theologians, not scientists. Over a century later, we know much more, but not enough to do more than guess at what happened at the moment of the Big Bang and immediately after. Astrophysicist Dan Hooper, author of At the Edge of Time—a book that explores dark energy, dark matter and other things we don't yet understand—talks us through books about the Big Bang, and questions whether our entire understanding of the universe is about to be turned upside down.