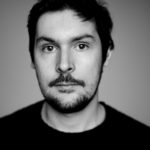 Dan Richards
Dan Richards is a British writer and the author of several books including Outpost (2019), Climbing Days (2016), and Holloway (2013), which was co-authored with Robert Macfarlane and Stanley Donwood.
Books by Dan Richards
New travel book from the author of Climbing Days and The Beechwood Airship Interviews, which takes the reader on a globe-trotting journey in search of retreats, bothies, huts, lookouts, bases and beacons in some of the world's most remote landscapes.
Around the time of Outpost's launch, we interviewed Dan Richards about five of the best works of landscape writing.
Interviews with Dan Richards
Good writing offers readers an invitation to explore and engage with the world around them, says Dan Richards—author of Outpost and Climbing Days—as he recommends five brilliant books that exemplify the skill of landscape writing.